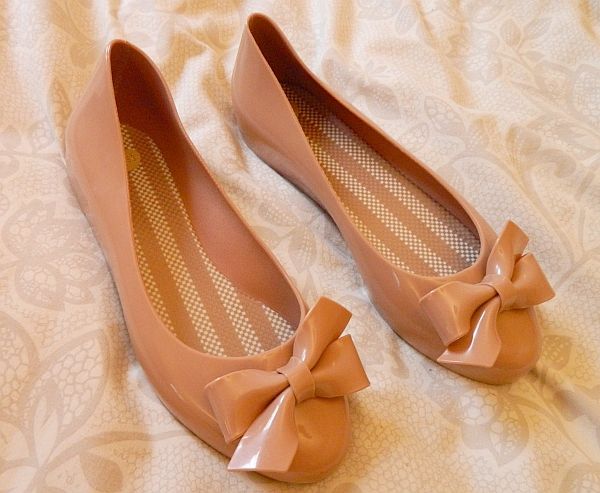 So I thought I'd start up another little feature called Tuesday Shoesday. It's pretty simple really, I will show you a pair of lovely shoes from my wardrobe (I have far too many), feature them in an outfit post and tell you a little bit about why I love them and what outfits I wear them with. If you are a shoe-aholic like me, this feature will suit you to a T!
First up we have my gorgeous new Mel shoes from New Look, which along with a couple of other pairs, were an early birthday treat from my lovely mum (thank you!). I fell in love with them as soon as I saw them on the New Look website. The gorgeous pinky colour and the oversized bow were all it took to send me in to 'I NEED THESE SHOES' frenzy. I was initially a little worried that they wouldn't be comfortable, being made from plastic, but my god, they are the most comfortable shoes I have ever had the pleasure of putting my feet into! They mould nicely to my feet and just look oh-so-pretty with my floral dresses and skinny jeans.
If you didn't know already Mel is the sister company to Melissa whose aim is to create shoes that add sweetness to every stride! What I love about both Mel and Melissa is that they have such strong ethical values. Their shoes are vegan friendly, made from recycled plastic known as 'MelFlex' which is super comfortable and has subtle smell (I was expecting strawberries for some reason, but its actually a strange, but not horrible plastic smell). Mel's footwear designs are inspired by sweets! They come in a range of cute styles and block colours, looking a little like the jelly shoes everyone wore when they were younger.
After being so impressed with my Mel flats, I have already got my eye on their wedges which come in red, blue, pink and black! Have you bought anything from Mel or Melissa?
xo
If you've enjoyed this post follow via Blog Lovin / GFC / Twitter