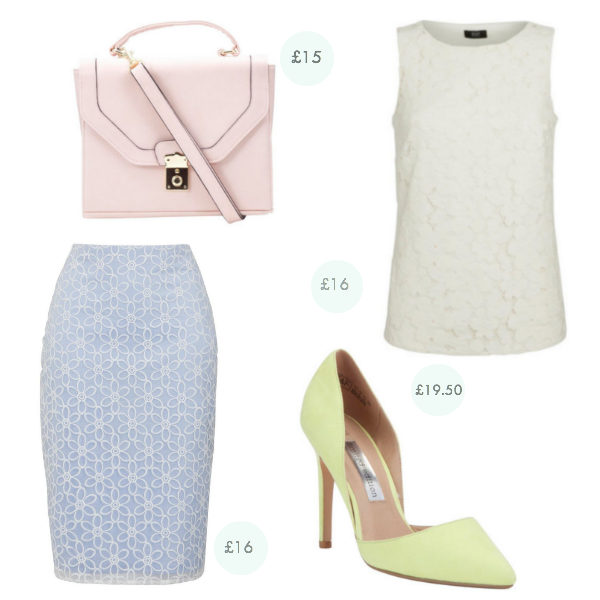 Structured Hand Held Satchel Bag // Daisy Lace Shell Top // Daisy Organza Pencil Skirt // Two Part Stiletto Court Shoes
In my opinion F&F is the best supermarket clothing brand, easily rivalling many well-known highstreet fashion stores. The collections never fail to impress me and I was blown away by their beautiful new spring collection which features my two favourite things, pastels and florals. From
daisy overlay skirts
to candy coloured dresses and
satchels
, I almost feel like F&F has tailored their spring collection just for me! Although there are many gorgeous new items both in-store and on the website, one being this beautiful
daisy organza tunic dress
I picked up the other day, the four items featured in this post are high on my wish list.
Unintentionally, yet rather wonderfully, I picked four items that I believe would make a lovely springtime outfit! With each item here priced under £20.00, you really can't go wrong money-wise. I can also vouch for the quality of F&F's clothing and accessories, with my
most-used satchel bag
being from there and still going strong after over a year! If you are looking to treat yourself to a new spring wardrobe, I highly recommend picking up some of your staple pieces from F&F. You will be pleasantly surprised, trust me!
xo